Heart failure
Heart failure – a global health problem.
Heart failure is a chronic life-threatening disorder with acute decompensated phases and a major global health problem, affecting approximately 26 million people worldwide. [1]
Heart failure (HF) is a common disease not only in Europe and the US, but worldwide with a prevalence ranging from 1 to 6.7% according to the countries. [2]
The prevalence of heart failure worldwide is growing due to a variety of factors, such as the aging of the population and the increase of patients being diagnosed with heart failure. Heart failure is a leading cause of hospitalization among adults and the elderly. [3]
Definition of heart failure
Heart failure is a complex and progressive clinical syndrome in which the heart cannot pump enough blood to meet the need of the body. 
HF is a progressing condition (chronic) with sudden decompensated phases (acute). The condition of chronic heart failure progresses rapidly. Quick and correct differential diagnosis of this condition is critical. Late or incorrect diagnosis delays the initiation of the appropriate treatment, increasing morbidity and mortality as well as treatment costs. [4]

Disease progression. Clinical course of heart failure. Greenhalgh et al. BMC Cardiovascular Disorders (2017) 17:156

Diagnosing heart failure
Diagnosing heart failure is a difficult clinical challenge. The diagnosis is initially based on a physical exam, symptoms and the patient's medical history.
For an improved diagnosis (confirmation or exclusion) of heart failure, tests such as ECG, chest X-ray, echocardiography, and heart failure biomarkers, such as natriuretic peptides, have proven useful.

In the non-acute setting:
According to 2016 ESC guidelines, the plasma concentration of natriuretic peptides (NPs) can be used as an initial diagnostic test when echocardiography is not immediately available: NT-proBNP < 125 pg/ml = HF unlikely
In the acute setting:
The same algorithm can be used, but with higher values as a cut off: NT-proBNP < 300 pg/mL = HF unlikely

According to those same guidelines, upon presentation to the emergency department or coronary care unit (CCU)/ intensive care unit (ICU), a measurement of NT-proBNP is recommended in all patients with acute dyspnea and suspected acute heart failure (AHF) to help in the differentiation of AHF from non-cardiac causes of acute dyspnea. [5]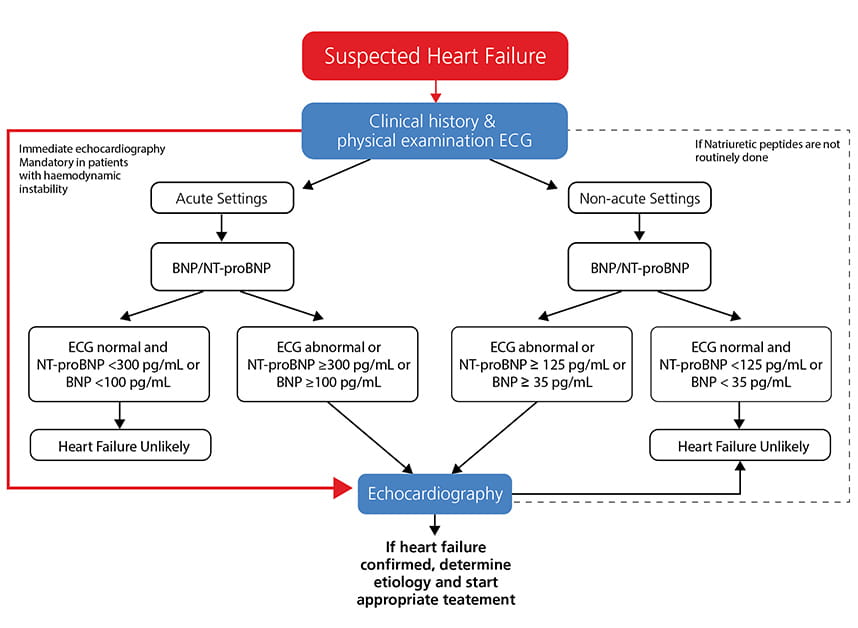 Adapted from 2016 ESC guidelines. ESC guidelines for the diagnosis and treatment of acute and chronic heart failure. Eur Heart J doi:10.1093/eurheartj/ehw128

Biomarkers in heart failure
As previously mentioned, natriuretic peptides (both BNP and NT-proBNP) are incorporated into clinical practice guidelines for the diagnosis of heart failure as published by the American College of Cardiology, the American Heart Association, the Heart Failure Society of America, and the European Society of Cardiology [5-6].
Used in conjunction with other clinical information, rapid measurement of natriuretic peptides, such as NT-proBNP, in the emergency department has improved evaluation, triage  and treatment of patients with acute dyspnea, reducing the time to discharge and the total cost of treatment [7].
Other applications of natriuretic peptides:
NT-proBNP is a valuable marker for predicting prognosis and severity of coronary artery disease in patients with acute coronary syndrome (ACS). [8]


Canadian guidelines suggest that measurement of BNP or NT-proBNP in patients hospitalized for HF should be considered before discharge, because of the prognostic value of these biomarkers in predicting rehospitalization and mortality. [9]


Patients who attain a significant reduction in NT-proBNP have a lower subsequent rate of cardiovascular death or HF hospitalization. [10]


NT-proBNP could be used as a marker of HF severity in patients who are taking ARNi therapy. [11]


Serial brain natriuretic peptide measurements are helpful in guiding the length and intensity of heart failure therapies. [12]


Besides natriuretic peptides and troponins, other biomarkers including those of inflammation, oxidative stress, neurohormonal activation and matrix remodeling, have been evaluated for their prognostic value in heart failure too.
Assessment of procalcitonin levels may be considered in patients with acute heart failure with suspected coexisting infection, particularly for the differential diagnosis of pneumonia and to guide antibiotic therapy [3].
Learn more about how the cardiac biomarker NT-proBNP can aid in diagnosing heart failure.



References
1. Ambrosy PA et al., JACC Vol. 63, no 12, 2014:1123–1133
2. Savarese G., Lund LH, Cardiac Failure Review 2017;3(1):7–11
3. Anh L. Bui, Tamara B. Horwich, and Gregg C. Fonarow, Epidemiology and risk profile of heart failure
4. What is heart failure - http://www.heart.org/HEARTORG/Conditions/HeartFailure/AboutHeartFailure/What-is-Heart-Failure_UCM_002044_Article.jsp
5. Eur J Heart Fail. 2016 Aug; 18(8):891-975
6. JACC Vol. 70, no 6, 2017:776-803
7. Moe GM et al. Circulation. 2007; 115:3103-3110
8.  Radwan H., Selem A., Ghazal K. Value of N-terminal pro brain natriuretic peptide in predicting prognosis and severity of coronary artery disease in acute coronary syndrome. J Saudi Heart Assoc. 2014;26(4):192–198. 
9. Canadian Journal of Cardiology 2015; 31: 3-16
10. Zile MR et al., JACC  Vol. 68, no 22, 2016: 2425-36
11. McKie PM et al., JACC  Vol. 68, no 22, 2016: 2437-39
12. Januzzi JL, Troughton R , Circulation  2013 Jan 29;127(4):500-7.