 Kezdőlap > Tudásközpont > Your guide to blood gas analysis
Your guide to blood gas analysis
Six videos to guide you through blood gas analysis
Blood gas analysis provides information on a critically ill patient's respiratory and metabolic status via measurement of pH, carbon dioxide (pCO2) and oxygen (pO2) together with other vital information such as electrolytes, lactate and hemoglobin.
Through three educational videos, you'll experience why blood gas analysis is important in three critical patient cases covering COPD, intoxication and sepsis.
Further, a set of three how-to videos will guide you in performing an arterial puncture, understanding the acid-base balance in the blood and to reading the blood gas report.
Blood gas analysis in three critical patient cases
The COPD patient
(4:45) A Chronic Obstructive Pulmonary Disease (COPD) patient arrives at the emergency department with decreased consciousness and forced respiration. Obviously, immediate action is required, but what is causing the condition?
The intoxicated boy

(4:19) A 6-year old boy is brought to the emergency department with incoherent speech, forced respiration, decreased level of consciousness and a smell of alcohol on his breath. Is he suffering from a kidney failure or is this a case of intoxication?


The septic patient

(3:51) A 60-year old woman arrives at the emergency department with suspected sepsis. Blood gas analysis shows that she suffers from metabolic acidosis and her x-ray indicates pneumonia. She doesn't respond to antibiotic treatment.

How-to videos on blood gas analysis
How to perform an arterial puncture
(4:00) It is important to perform the arterial puncture in the correct way in order to prevent pre-analytical errors that can lead to incorrect results. This video gives you an example of how to perform an arterial puncture correctly.
Understanding the acid-base balance
(5:49) Diseases, intoxication, injuries and other disorders can threaten the acid-base balance in the body. This video explains how the lungs and the kidneys help maintain the pH level in the blood to obtain homeostasis and how the calculation of the Anion Gap can be an important step in identifying the cause of metabolic acidosis.
Reading the blood gas report using Tic-Tac-Toe
(5:00) After measurement of an arterial blood sample on an ABL blood gas analyzer, you receive a patient report. The pH-level, the pCO2 and the concentration of bicarbonate are relevant to determine whether a patient is suffering from respiratory or metabolic acidosis or respiratory or metabolic alkalosis. This video teaches you a clever way to interpret these results using a simple method we call Tic-Tac-Toe.

Let us guide you in blood gas analysis
Get in touch to let us know how we can help you with your blood gas analysis.
We'll contact you by phone or email as soon as possible.
Educational webinars on blood gas testing
Presented by Ellis Jacobs, PhD, Assoc. Professor of Pathology, NYU School of Medicine
Presented by Ana-Maria Simundic, PhD, Prof. of Medical Biochemistry, Zagreb University, Zagreb, Croatia
Vonatkozó tudományos cikkek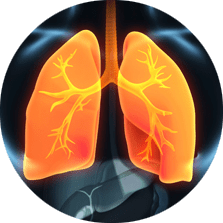 Useful tips to avoid preanalytical errors in blood gas testing: pH, pCO2 and pO2
By Chris Higgins
Vonatkozó tudományos cikkek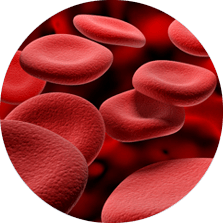 Why measure blood gases? A three-part introduction for the novice - Part 1
By Chris Higgins
Vonatkozó tudományos cikkek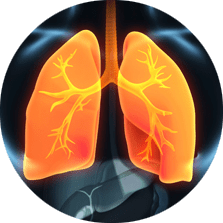 100 years of blood gas and acid base analysis in clinical medicine
By J. Kofstad
Get the acute care testing handbook
Download the free guide on blood gases and other critical parameters in acute care testing.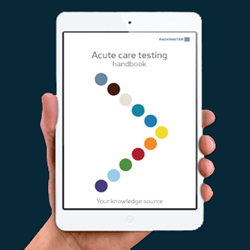 Find your solution for blood gas analysis